Business Continuity
Let us help you have a better understanding of the risks that you might encounter for your business.
Our main goal from our business continuity services is to provide our clients the ability to effectively respond to threats such as natural disasters or data breaches and protect the business interest of the organisation.
Our business continuity services include disaster recovery, business recovery, crisis management, incident management, emergency management, and contingency planning.
Understand how business continuity works and the importance of preparedness when it comes to needs, as well as the necessity for establishing business continuity management policy and objectives.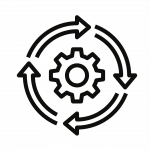 Implement and operate controls to manage your organisation's overall continuity risks.

Monitor and review the performance and effectiveness of the business continuity management system.
Assist you with continual improvement based on your yearly objectives.
Why Do You Need Business Continuity?
The risk of not having a business continuity plan is highly harmful to a company.
These risks can leave a company  flat-flooded and lead to other significant problems, including:
Downtime for cloud-based servers, systems, and applications. Even minutes of downtime can result in the loss of substantial revenue.
Credibility loss to reputation and brand identity. Customer retention can plummet.
Regulatory compliance can be at risk in industries such as financial services, healthcare, and more.
We can help you prepare today and establish a business continuity management program.